Our children's chocolate making parties take place in our lovely little factory in Wargrave and are great fun for all ages from 5 years and up. They last around an hour and during this time each child makes and eats loads of chocolate.
We start the workshops each making two large bars of chocolate using tempered chocolate from our machines. They can choose from either milk, dark or white chocolate and swirl flavours together to make marble patterns. It's then up to the children to get creative and decorate them with whatever they like from our amazing sweet shop full of inclusions such as sweeties, biscuits, fudge and dried fruits.
We place the chocolate bars in the fridge to set then each child makes their own chocolate lollipop with a very special chocolate transfer pattern on. Whilst all our chocolate is in the fridge we do some chocolate tasting of the liquid chocolate. The children will decorate a bag with their names before we get the chocolate out of the fridge and package it up ready for them to take their very own handmade chocolate party bag home with them. Best party ever is the term heard most often by children during our parties!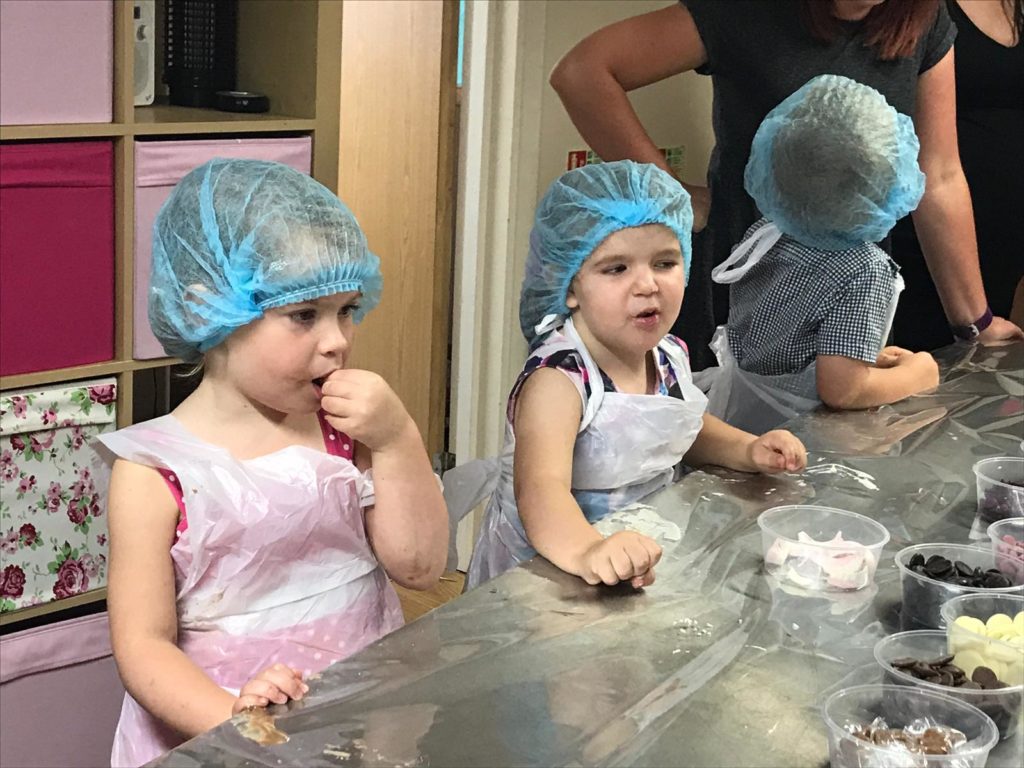 The cost is £25 per child and groups can be between 5 and 12 children aged between 5 and 10 years. For children 11 and over please see details of our regular workshops.
FAQ Children's Parties:
1)Can we bring party food?
Unfortunately not, only chocolate and sweeties provided by us can be consumed on site.
2) Can we bring a cake?
Yes if you would like to bring a cake we can sing happy birthday and fit this into the party. Once we have sung and blown out the candles the cake will need to be cut up and taken home with each child.
3) Can we stay and watch?
Up to three adults can stay and watch. If you feel your children may need more supervision let us know when booking.
4) Can we extend the length of the party?
Unfortunately not, an hour is the maximum party length for children.
5) Do you have parking?
Yes there is parking on site, details will be sent to you when booking
6) Do you cater for dietary requirements?
Our Milk, White and Dark chocolate are gluten and soya free. Our dark chocolate is dairy free but may contain traces. There are over 30 different toppings to choose from so something for everyone and to suit all diets. We have plenty of vegetarian sweeties too.